Our Story
Ascension Golf Carts started and continues to be a family-owned business, but started off very small, in the garage of our owner's home in 2002 in Ascension Parish, hence our name, Ascension Golf Carts. Since then, we grew into our first storefront location on Airline Highway in Gonzales in 2004. About two years later, in January of 2007 we built and moved into our Highway 44 or "Burnside" location in Gonzales, Louisiana. About nine years later, in October of 2016, we grew into Baton Rouge, Louisiana. This is when we opened our second location on Airline Highway and we were located at this location for about 2 years until making the move to Baton Rouge full-time with both locations. In January of 2018, we moved into our superstore location at 11025 Reiger Road, and we are open 6 days a week, Monday-Friday from 8 A.M.— 5 P.M. and on Saturday's 9 A.M.— 2 P.M., our phone number is: 225-408-3331. Ascension Golf Carts is now the largest golf cart dealership in Louisiana. Some may ask why we don't change our name since we are no longer in Ascension, and the simple answer is, we don't want to ever forget our roots or the hometown who helped mold us into who we are today.



Textron, Incorporated
We are an authorized EZGO & Cushman dealership and have been since 2004. EZGO is the #1 golf cart manufacturer in the world and American made in Augusta, Georgia. But more than 60 years after the first E-Z-GO vehicle was built, there is still that single belief — that they exist to build vehicles and services that exceed the expectations of the customer, better than any other offering on the market. It is the drive to sustain and improve that position — to offer an unparalleled combination of world-class products, advanced technology, manufacturing expertise, and extraordinary service — that leads E-Z-GO to cover new ground. EZGO & Cushman are both owned by Textron Incorporated. Textron Inc. is a multi-industry and a multi-billion dollar company who has been around since 1923 and is also a parent company to other large names you may have heard of like: Bell, Cessna, Beechcraft, Arctic Cat, Jacobsen and many more. The company leverages its global network of aircraft, defense, industrial and finance businesses to provide customers with innovative products and services.



The AGC Difference
Here at Ascension Golf Carts, we like to do business a little differently, we strive to keep our customers satisfied not only during the sale, but after the sale and throughout service you may need in the future as well. We are a full-service golf cart dealership offering new and used carts, gas or electric, and from standard models to fully customized and everything in-between. Some of the custom features we offer are custom paint colors and styles, rear seat kits, lift kits, custom wheels, stereo systems, head/tail lights, windshields, and much more. We have a beautiful showroom with a wide selection of carts and accessories for your viewing. Pair our beautiful showroom with our knowledgeable and friendly sales people eager to help you navigate through the many different choices we have versus what you are needing/wanting and it makes for a great experience. We also offer pick up and delivery of your cart to you whether you just purchased it, needing it serviced, or needing a rental. Just let us know how we can better serve you!

Financing
We offer financing through several different financial institutions like Sheffield Financial, Dealer Direct and Yard Card. If you are interested in financing, it would be best to fill out the application form on our website by clicking on the "Financing" tab at the upper right hand corner of our website.
AGC Rentals
If you decide purchasing may not be for you, or are looking for something a bit more short-term, we have rentals available through our AGC Rentals department. You can rent for a day, weekend, or extended amount of time of your choosing. We have 2, 4 & 6 passenger carts available as well as the gas or electric option to choose from. If you may be interested in this service, on our home page of our website, we have an option to click that says "Request a Rental", all you need to do is fill out the information on there and someone will be in contact shortly.
Service
When the time comes and you are needing service on your golf cart, we have a fully-stocked parts department, and a fully equipped service department. Our technicians are all EZGO/Cushman certified, however we do service other brands including Club Car, Yamaha and select Bad Boy buggies.



Our Dealership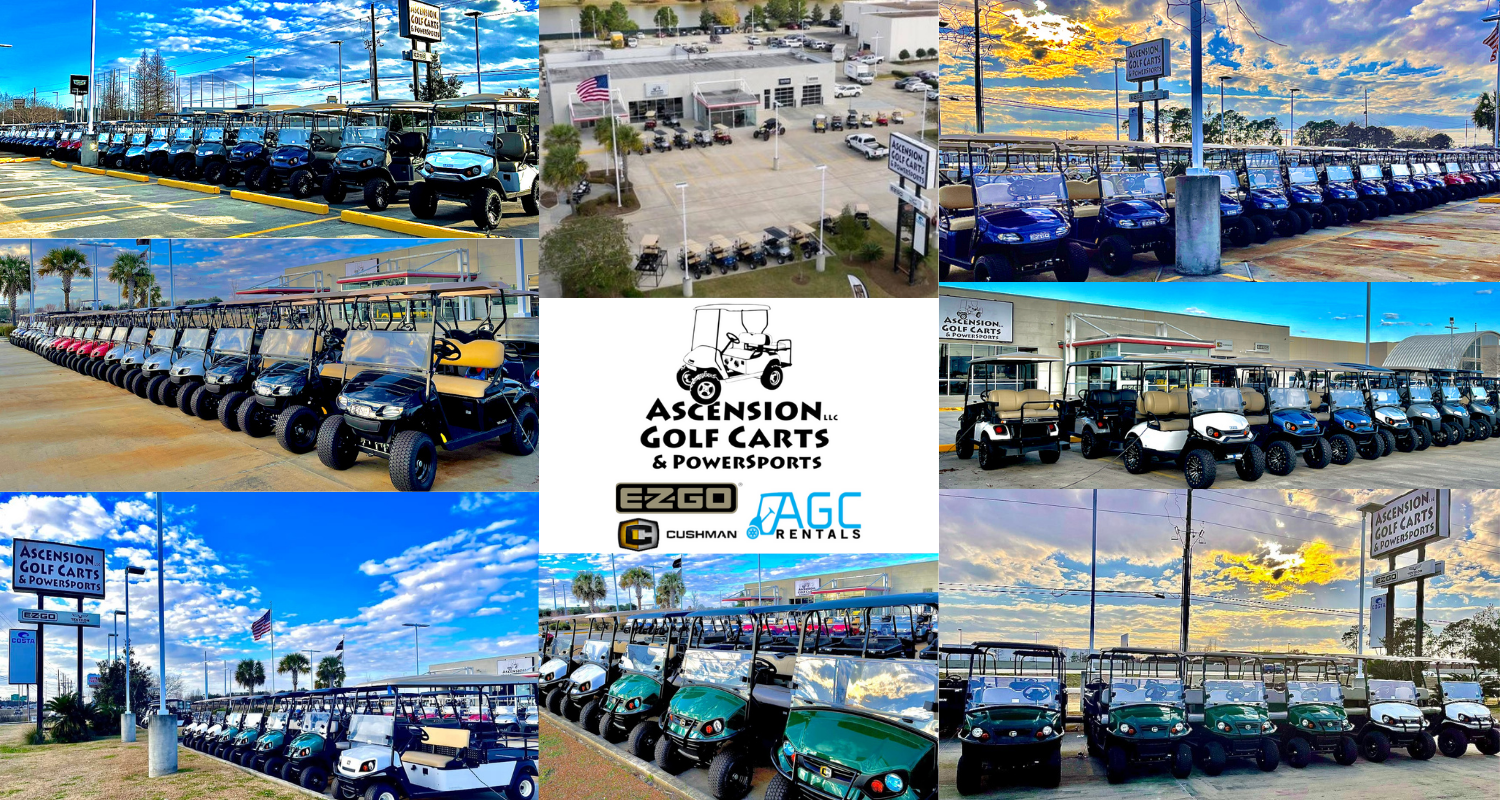 Our Team-Christmas Photo 2022